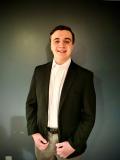 Joey K
Major: Marketing
Hometown: Ada, MI
Why did you apply to be an MSU Tour Guide?
Walking around campus gives me a lot of joy, and when I heard that there was a job that could show other people how awesome this campus is, I signed up.
What do you enjoy about being  an MSU Tour Guide?
I get to meet new people every time I go on tour. Not everyone meets some one new every day, so I feel like that is a privilege to me. I also love talking about how great MSU is and why I chose to go here.
What is the purpose of the MSU Tour Guide program?
Our job as Tour Guides is to show guest our campus and how great it is. We are not selling it. We want to show you our campus and lifestyle so that it better helps our guest and future Spartans if this campus is right for them.
What place or landmark do you enjoy sharing with your tours?
One of my favorite stops is at Snyder/Phillips Hall. When we are there, I show the dining hall "The Gallery" and one of the type of rooms that MSU offers. I also talk about living on campus and meal plans. I also love Beaumont Tower, because I get to talk about our amazing history and traditions that come along with being a spartan.
What is the most memorable feedback you received from a tour?
One of my guest took our survey but decided that was not enough, so he/she decided to email the office of admissions to further thank me for my tour that I gave, I was very touched by that comment.
What do you want those preparing to come on a tour to know about MSU and the tour program?
Prepare yourself with finding something you might not know about MSU, and ask me! I love when my guest ask me questions, because I know that they are engaged with me.