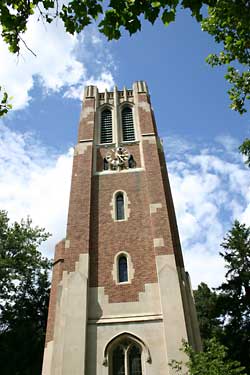 If you love the sound of bells, Beaumont Tower is the place to visit. Beaumont Tower is located on campus, one block south of Grand River Avenue and one block north of the Red Cedar bicycle trail in the center of "old campus."
The tower has a carillon, a musical instrument consisting of at least two octaves of bells arranged in a chromatic series and played from a keyboard that permits control of expression through variation of touch. The MSU carillon has 49 bells and is capable of playing the full range of literature composed for the instrument. Click here for more information on the history of Beaumont Tower and the carillon.
The carillon is played every Wednesday at noon for 30 minutes during the school year, with additional noon recitals subject to volunteer carillonist availability. Every month (generally the first Wednesday of the month, though it may be moved for certain observances), the tower is open to the public during the regularly scheduled Wednesday noon recital and guests can climb the tower to see the carillon being played live. During the summer season, the Muelder Summer Carillon Series brings in guest recitalists to perform on six Wednesday evenings at 6pm. Click here to learn more about the Carillon Series
The carillon performance chamber is on the fourth floor of the tower (73 steps up) behind the clock face. There is no elevator or restroom facility in the structure.