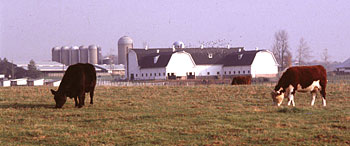 Effective immediately, south campus animal farms are closed to tours and unauthorized visitors to protect the health of dedicated individuals who care for the animals.
Visitors are welcome to visit the many farms on the south side of MSU's campus between Mount Hope and Jolly Roads. MSU is home to many animals including sheep, cows, horses, swine, cattle and chickens. Milking procedures can be observed every afternoon. The MSU Dairy Teaching & Research Center, the Sheep Teaching & Research Center and the Beef Cow-Calf Teaching & Research Center are open daily between 8 a.m. to 5 p.m. Admission is free and there are informational signs and trails marked for self-guided tours.
For tours of the other facilities (Beef Cattle Teaching & Research Center, Feed Mill, Horse Teaching and Research Center, Poultry Research & Teaching Center, and Swine Teaching & Research Center) please make an appointment with the facility manager.
For a map and more information about each farm, check out the MSU Farms website.