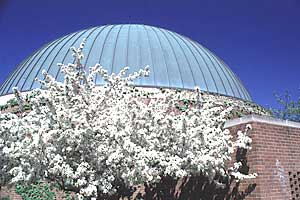 Are you fascinated by the night sky? Rediscover the wonders of the universe at Abrams Planetarium!
The Abrams Planetarium, located at 755 Science Rd, East Lansing, MI, serves as an astronomy and space science education resource center for central Michigan. The planetarium is an outreach unit of MSU's Department of Physics and Astronomy that offers a variety of shows to all age groups, from preschool through senior citizens. The planetarium houses an exhibit hall with a book and gift counter, a black light gallery of astronomical art and a hemispherical domed sky theatre.
The sky theater features fantastic star shows utilizing a state-of-the-art computer graphics star projector. The planetarium can accommodate up to 141 people in the theater, black light art gallery and exhibit hall. Shows are available at a nominal charge. Shows can be arranged for group visits, or you are welcome to join for a public program.
Click here to learn more about group visits.