MSU Alumni Memorial Chapel
Nestled upon the rolling, park-like lawns that slope gently down to the Red Cedar River, stands the picturesque Michigan State University Alumni Memorial Chapel. Thousands of MSU students and alumni have chosen the chapel for their wedding ceremonies since its dedication over fifty years ago. Its simple elegance, soaring timbered ceilings, mellow floor tiles, beautiful stained glass windows and the Old-World charm of its English Tudor styling are the MSU Alumni Chapel reasons that many travel from around the world to celebrate weddings, baptisms and memorials at their alma mater.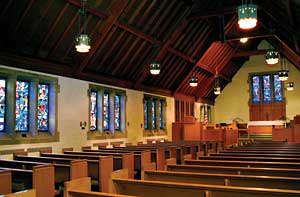 MSU Alumni Memorial Chapel comfortably seats 190 people. The chancel with its pipe organ, pulpit, choir benches and altar provides a setting appropriate for worship of any faith. The altar, a simple rectangle, was designed after the chaplain's combination altars of World War II.
(Photo courtesy of Robert Bao)